The next MAL milestone: Carbon Neutrality
We would like to share with you one of our latest achievements that has been particularly important for us: Neutralizing our Carbon Footprint and in that way actively combating the Greenhouse Effect. As sustainability of our products is a key matter for us, the reduction of our carbon emissions is consequently very high in our agenda.
The problem of carbon emissions and the resulting Greenhouse Effect has long become a matter of vital importance for humankind. The Kyoto Agreement has laid the foundation and provided guidance, in which direction countries, organizations, companies and individuals should go in order to secure survival of humankind on this planet for the generations to come as well.
It is one of our central concerns to actively contribute to reducing our Carbon Footprint and the concentration of Kyoto Greenhouse gases in the atmosphere.
The basis: Studies have shown that by consistently forgoing artificial fertilizers and pesticides an Organic natural latex plantation only produces 50 % the carbon emissions of a conventional latex production. Since we are exclusively using raw material from ecological agriculture for our production, this was the foundation we could build on.
As a next step, it was our aim to drastically reduce the use of fossil fuels in the Organic natural latex production and to switch to mainly environmentally-friendly energies. We have mastered this challenge with a great deal of imagination and persistence.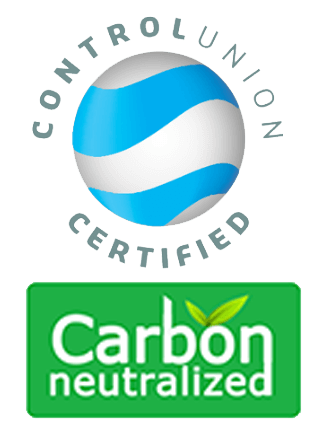 The aim was then to document the Carbon Footprint of our Organic natural latex production in India according to the "Cradle to Port System" and to completely neutralize it. We could then balance the difference between environmentally-friendly and fossil energy by purchasing the respective amount of Verified Carbon Units (VCUs), which made it possible to neutralize the remaining carbon emissions as well.
What's more: The Kyoto Agreement does not take into account that the rubber plantations, from where we receive the natural latex milk for our production, already absorb or rather neutralize a considerable amount of greenhouse gases. Studies have demonstrated that one hectare of latex plantation absorbs 84 tons of carbon dioxide from the air in 30 years! If we were allowed to include this aspect into the calculation of the "Cradle to Port System", we would already be completely carbon neutral without the purchase of VCUs!
We wish continued strength and perseverance to you as our Organic partners in our shared struggle for sustainability and reduced carbon emissions, in short: for our future.
Does that sound interesting? Would you like to actively use the CO2 logo for your marketing?
Please do not hesitate to contact us for more information!
We are your partner for Organic Carbon-Neutral Products!